Thinking of wearing a vintage dress for prom? Go for it. Here are 10 tips to help you pull off this super funky look.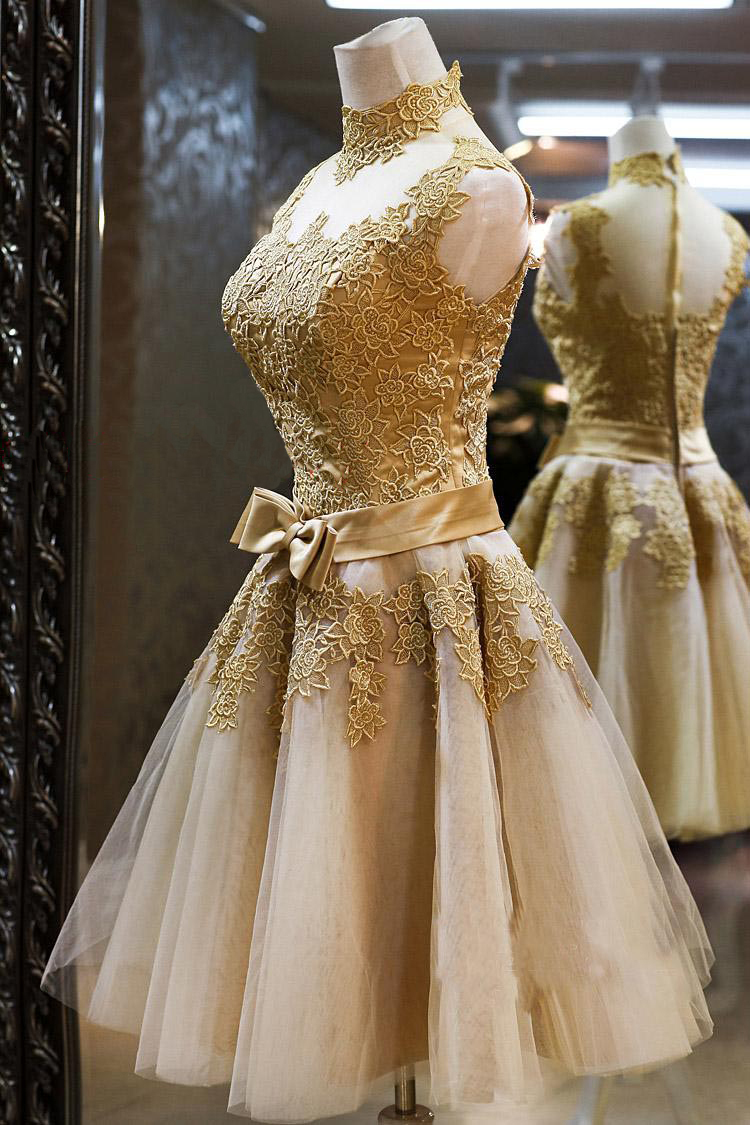 Image source: http://i00.i.aliimg.com/wsphoto/v0/1701399700_2/kurz-gold-2014-Jahrgang-k%C3%B6niglichen-spitze-cocktailkleider-kleid-brautkleid-vestido-de-novia.jpg
Looking to stand out at the prom? A vintage dress can be just as trendy as any en vogue number and pretty much guarantees that nobody else will be wearing the same thing.
Having said that,
shopping for vintage dresses
can be daunting. Take a look at these great tips on how to seek out the ideal one-of-a-kind dress for your special event.
1.
Start With Photo Research
You'll need to have a couple of image references so you know what sort of look you want to achieve. Do you want something long or poofy? Or perhaps more 50's or even 80's?
2.
Get Your Measurements Right
Vintage sizing is different to today's sizes so don't trust the tags. A size 12 back in 1965 could have easily been a 2 or 4 by today's norms. Carefully measure your hips, waist, bust and under-bust before you go shopping for
sparkling prom dresses 2016
.
If you're looking for a dress with sleeves, remember to measure your arm circumference. Another reason not to rely on tags is you will have no idea how many alterations have already been done to the piece since it was made so many years ago. It could well have been taken in, let out, hemmed and re-hemmed or any number of things done to it.
3.
Determine Your Budget
As with any type of dress, your budget will determine just how hard you have to search for your vintage piece. If you're on a tight budget, you'll still be able to pick out something fabulous but you might have to search a little harder. A decent price range for vintage dresses is around $100 to $300.
4.
Looking for a Store
There are plenty of vintage shops out there and online. If you don't live in a big city, try searching online and be sure to narrow down your list to vintage stores and not thrift shops. There's a big quality difference.
5.
Concentrate on Functionality and Fit
Once you're looking through prom dress, let fit be your first consideration. The dress should flatter your shape, or at least be able to be altered. Make sure you're able to dance, eat and comfortably sit in the dress.
6.
Carefully Check Quality
The fabric should still feel good. Not dried out, aged or paper-like in texture. If the seams look like they're starting to pop, you can have them easily reinforced. Zippers should work as they're meant to or be easy to mend. Remember to look under the arms for any perspiration stains as those won't come out at all.
7.
Don't be Afraid to Make Alterations
Don't let the thought of tailoring hold you back from your dream vintage dress. If something is too big, have it tailored. Consider this: you might be able to find a dress under budget and spend the rest on having it altered to be your dream frock. Longer dresses could be shortened to give them a fresh look. Woven materials are easy to alter but anything knitted can be more of a challenge. Even dresses that are too snug when you try them on can be altered. Look for interior seams with half an inch or more of extra fabric – these can easily be taken out by a seamstress.
8.
Take Care of the Dress
Find the best dry cleaner you can and have your vintage prom dress cleaned straight away. Once that's done, store the dress in a long garment or plastic bag and stick it in the wardrobe where it won't get too much movement.
9.
Balancing the Look
Unless you want to be completely literal, make your vintage dress relevant. Keep your bag, shoes and accessories current and your entire ensemble will work perfectly.
10.
Repurposing Your Dress
Finally, once prom is over, you can recycle your dress. If it's sheer and long you could dress down with a sweater and boots. If it's a little taffeta dress, snip off the top and make a skirt you could wear with a casual top. You can have such fun repurposing your dress after prom.