The Met Gala - formally addressed as the Costume Institute Gala - is a highly anticipated event for all fashion and haute couture lovers. This year, May 4th marked the day of the event and may were startled by the outrageous style moments that occurred during the cocktail hour (red carpet) of the famous Gala.
Today, I summed up my favorite top style moments from this year's Met Gala. Please not that these looks do not portray my personal favorite looks, but the outfits that I think will leave an impression for a long time - i.e. well styled.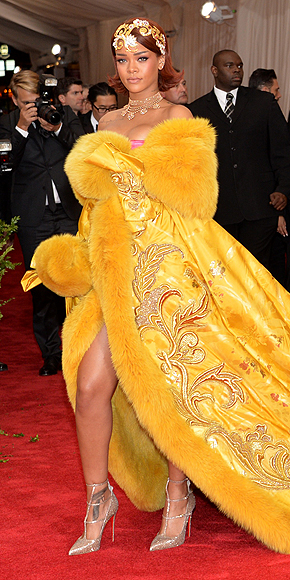 Rihanna in Guo Pei
To many, Rihanna's dress looked extremely outrageous, and I can totally understand why. Some even related her dress to a giant omelette. I personally find the culture and art printed on the dress by the couture chinese designer Guo Pei extremely beautiful. Is it something I would wear? most likely not, however I'd love to see it worn. As for the styling, I love the silver Christian Louboutin shoes that she was wearing, which matched perfectly with the dress's silver embellishments. The head piece is just to die for - in my opinion.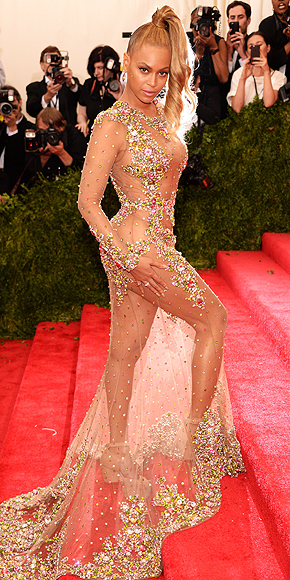 Beyonce in Givenchy Haute Couture by Riccardo Tisci
The first thing I saw when I opened the news about the Met Gala was how naked many of the dresses were; Beyonce's was one of them.
I heard that people waited anxiously for two whole hours for Beyonce to arrive, and she astonished them with her bare and bold gown. I find it absolutely beautiful, and the styling of the hair and makeup put the whole focus on the design of the gown, which was customized for Beyonce especially for the Met Gala.
Speaking about 'Naked' gowns, Kim Kardashian was also a fan. She revealed that her inspiration was Cher's feather dress which she wore previously to a Met Gala. I personally love how heavily embellished the gown is, however I am not sure I am a fan of how naked it is.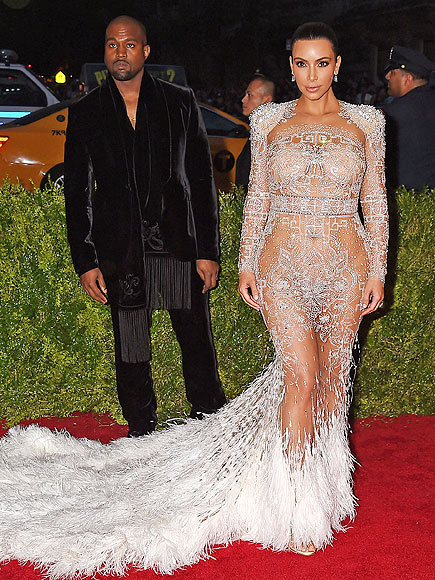 Kim Kardashian
Lady Gaga also made a statement entrance with her 14,000 feather dress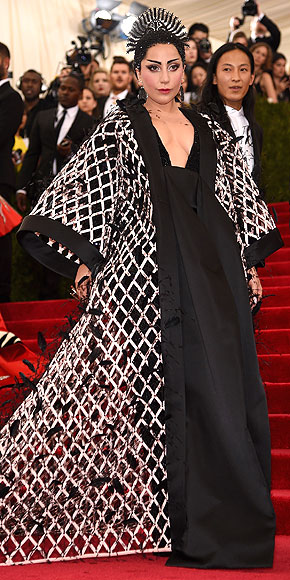 Lady Gaga in Balenciaga
I think gaga's makeup might come as a little too much to many, however I think it complemented the idea of the gown rather well.
Anne Hathaway's golden dress looked absolutely pure gold! which I actually loved. I like how it has somewhat a head attachment to the dress, giving a Cleopatra feel to the gown.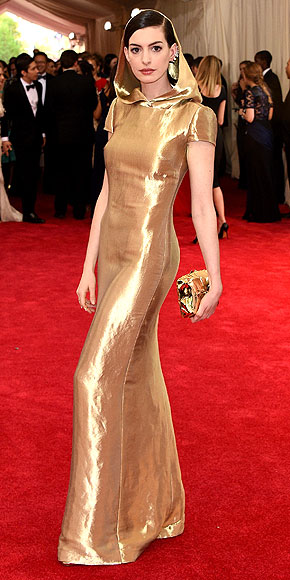 Anne Hathaway in custom Ralph Lauren
Cara Delevingne was in in a black Stella McCartney jumpsuit which was styled rather 'weird'; which is very expected of the model. She had fake floral tattoos to complement her very basic black outfit.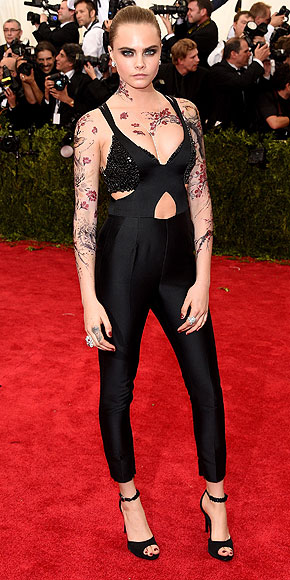 Cara in a black Stella McCartney jumpsuit
Some outfits raised the question of 'Is it a pant? or a gown?' to anybody who sees them. Maggie Q's outfit was an example of this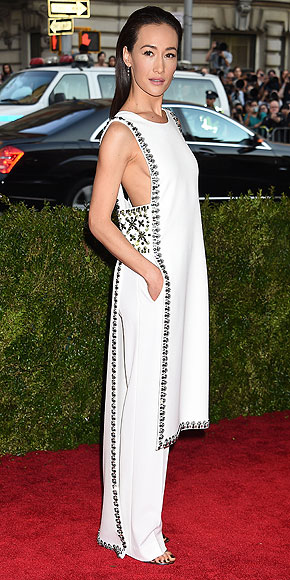 Maggie Q in Tory Burch tunic
What I love about this custom design is that it would really look fabulous as a gown or as a pant. Plus I love the sleeked back hair with the white.
Another white design, embelished with 3D lace and pearl florals was Amanda Seyfried's Givenchy haute couture dress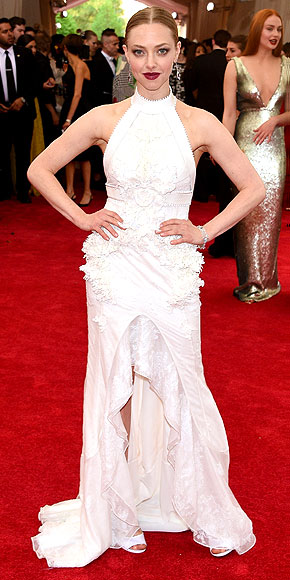 Amanda seyfried in custom Givenchy Haute Couture by Riccardo Tisci
A statement entrance competitor of lady Gaga's was sarah Jessica Parker, with her very astonishing head piece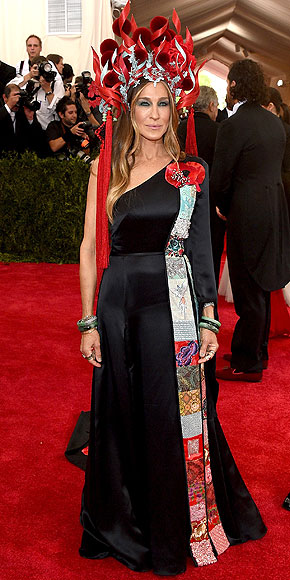 SJP in Philip Treacy sculptural red and silver headpiece
Again, her gown - like Rihanna's - has an obvious element of art and culture.