It's only a matter of weeks before the beginning of the 2015 spring, and it is certainly the time to prepare your wardrobe for a fabulous and chic spring. Many of us are probably very bored of the thick and heavy winter gear, and - just like myself - couldn't be more excited to switch into spring wear.
I summed up for you guys today a few trends that are taken from the spring runways, that are expected to be of great influence for the spring season this year! I will elaborate my thoughts on them and share a few styling tips on the way ...
so here it goes
Head-to-toe white
Source: https://edanafashion.files.wordpress.com/2013/08/c9031-allwhite.jpg?w=768&h=543
It's not about the all black look anymore; spring gives a brighter vibe, therefore go for an all-white look! and FYI, it's a myth that white makes you look fat!
It's all about the layering of the white segments, as well as choosing various shades of whites in one outfit.
One shoulders
Source: http://www.glamour.com/fashion/2014/09/spring-2015-fashion-trends-from-fashion-week/11
The one shoulder trend dissapeared for a while, however this spring it makes a terrific comeback! I have always loved the off shoulder trend, and I was slightly sad to see it disappearing from the runways and stored; If you're also a fan of the off shoulder cuts, then go ahead and experiment with it this spring! I noticed that printed garments and bold colors are used for spring, with an off shoulder cut :) it makes the trend eve more vibrant.
The boyfriend jeans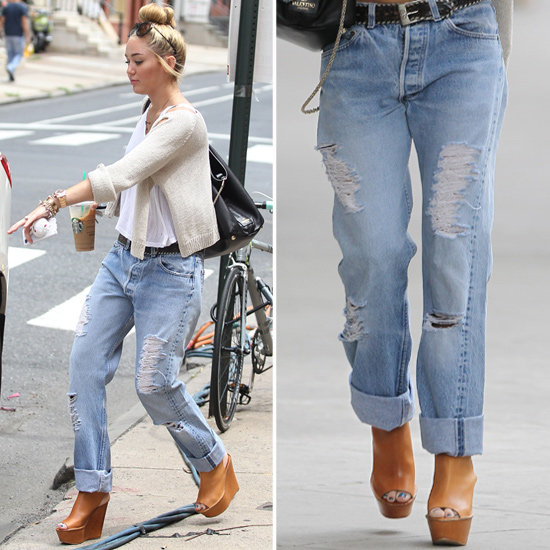 Source: http://media1.onsugar.com/files/2012/08/32/3/192/1922261/ad7eeb057309a4ad_MCyrus8812.xxxlarge_1.jpg
Miley Cyrus sure knows how to rock roomy over-sized boyfriend jeans. I am fully aware that this is not a very easy trend to rock - me myself find it extremely hard to feel confident and comfortable with a roomy boyfriend jeans. This spring, this trend is again back! I strongly suggest for you to keep your tops tighter rather than baggy, to create a balanced contrast.
Military chic
Source: http://cdn.fashionisers.com/wp-content/uploads/2014/09/Ralph_Lauren_spring_summer_2015_collection_New_York_Fashion_Week3.jpg
Ralph Lauren gave us several military green looks - see image above - in New York Fashion Week this year for their spring/summer collection. I am such a big fan of military chic! I feel like it gives a very positive strong and bold twist to what usually seems very feminine.
Shirt dresses
Source: http://www.glamour.com/images/fashion/2014/09/rebecca-minkoff-shirt-dress-spring-2015-h724.jpg
There's nothing that speaks spring more than a flirt, sexy shirt dress! pairing shirt dresses with noticeable belts this spring is certainly a hit!