Fall is just around the corner and I couldn't be more excited to wear all the fall trends, since it is my absolute favorite time of the year when it comes to fashion and beauty trends. One thing I am super excited about is the hot beauty trends that are expected to be trendy this year's fall, so I decided to share with you guys my personal favorite makeup trends for 2014 Fall :)
Please check out the corresponding photographs above.
1. The metallic eye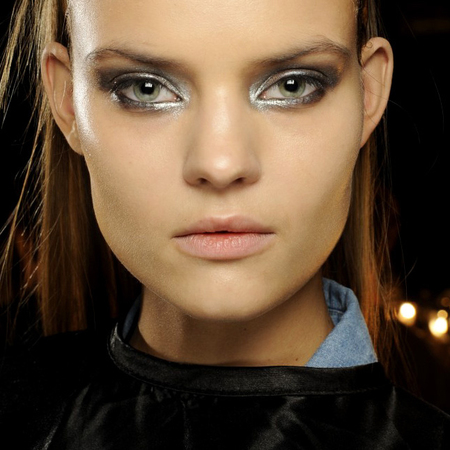 The metallic eye was spotted in several Autumn/Winter shows including one of my favorites: Emperio Armani. I love the frosty feel it gives to the rest of the face, and with a metallic eye you pretty much have your statement made. Nothing else is often needed.
2. Bold lashes
Long and bold lashes have always been a favorite of mine! I feel naked leaving the house without a good coating of Mascara. This fall, bold lashes and highlighting the lashes on the beauty look is very trendy.Yaaay :D
Versace and Saint Laurent were spotted with super bold lashes on their Autumn/Winter shows this year.
3. Bottom line it up!
This is a trend that I recently tried out again myself! I love creating a smokey effect by applying bottom liner :) It creates a smokey eye very easily.
I am loving those eye pencils by the Body Shop that have a dual brush - one to apply the liner, ad the other to smudge!
4. Glowing skin
Healthy skin glow with very little blush and good amount of highlighter will take you a long way this fall! just try it out :)
I personally like to use a highlighter by sheseido. It gives a very healthy looking glow to the skin.
5. Experiment with your liner
This is a trend that has been hot this summer already, and it will continue for Fall :) don't be afraid to go bold with your liner, try out a colored one for a change ;)
6. Back to the 60's
I am such a big fan of Lana del Rey, and she is always seen rocking the perfect vintage 60's beauty looks! I would love to try out a 60's look this Fall.. I hope I'm up for it. Are you?