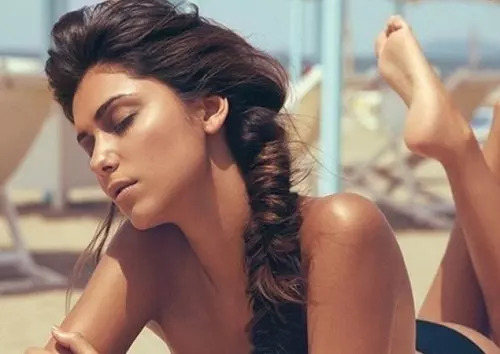 source:http://cdn2.stylecraze.com/wp-content/uploads/2012/03/Bronzer-makeup.jpg
Happy Saturday darlings! I hope you are all enjoying your weekend, I am having such a busy weekend with packing and cleaning and getting ready to head back home to Oman in a few days! *Can't waiiiit* ...
Today I left my place for a mini shopping trip to town, I decided to bike there since the weather today is very sunny and beautiful, only to realize that this heat is unbearable for my makeup! I quickly thought of this blog post on tips and tricks on how to survive the summer heat and keeping your makeup flawless ALL SUMMER LONG!
PRIME PRIME & PRIME
Primer is very important. I have to admit that I don't really own a primer *I tend to steal my sister's primer whenever it's possible*, however, there are several things that you can use to replace a primer (in my opinion and from personal experience, have worked).
I tend to use concealer on my eye lids just to make my eye contour area even in skin tone and get rid of any dark circles, but this step also allows any eyeshadow that use later on to stick longer! and thus the concealer somehow acts as a primer. On the other hand, if you experience really shiny skin and oily eye lids, then a good primer is certainly a must.
Balsam recommends:
Go lighter, with everything!
In my opinion, I don't think its just the hair that goes lighter in summer! makeup should too. By lighter, I mean all sorts of lighter... as in lighter shades and lighter texture. Ditch the foundation for the BB cream or tinted moisturizer which are generally much lighter in texture.
Balsam recommends:
When you know its going to be a sweaty super hot day, just don't go crazy with eyeshadow and all the face makeup. Keep it simple, and light.
Go waterproof?
For those who know me, they will know that I am absolutely against waterproof mascaras! They do dry the lashes, and I am such a freak when it comes to taking care of my eye lashes. I just want them to look super long and healthy, so I always say goodbye to all waterproof products for my eyes. However, when it is this hot and it does get sweaty, waterproof mascaras could become your best friend.
Sorry I do not have any recommendations since I do not use any waterproof products :(
Go translucent *Only if you have to powder*
Translucent powder is literally my BEST FRIEND! I cannot go a day without using translucent powder. It just makes me feel secure about my makeup, knowing that I can go out and not worry about my face looking too shiny or my foundation getting outta control.
I'm a liquid foundation fan. I just love the natural finish it gives, but I always pair it with translucent powder to make sure it remains in place. I also touch my concealer with translucent powder to avoid any creasing.
I honestly do not like to opt for tinted powders or those with a hint of color, I just feel like it is too much especially when you have already applied liquid foundation.
Note that only do this if you HAVE TO! sometimes in summer putting on bb cream or tinted moisturizer is enough ;)
My recommendation is the MAC prep+prime translucent powder. I have been using this for YEARS! and it is certainly my favorite MAC product
I hope these simple basic tips and tricks help!
Share with me YOUR favorite tips that worked for you this summer :)